Trusted Shoreline Restoration Contractor of Central MN
Installing shoreline erosion solutions in Saint Cloud, Brainerd, Alexandria, & Nearby
Many of those who live near the shoreline are familiar with the process of shoreline erosion and the danger it can pose for a property.
For those less familiar, shoreline erosion is the gradual destruction of land near the water's edge by repeated waves. The repeated bombardment of the shore causes it to gradually erode and recede, causing problems for vegetation near the edge and also decreasing the size of the property.
While the ocean may be most famous for shoreline erosion, even ordinary lakes will eventually suffer erosion. If the erosion occurs too close to your home you may even suffer mold or other issues as some of it gets into the home or basement. That is why it is crucial to take steps to secure your shoreline property against this danger.
In order to secure your shoreline, you need a qualified contractor who is able to quickly analyze your problem and figure out a solution. Here at Innovative Basement Systems/Innovative Foundation Supportworks we can offer just such service. Our experienced team cannot just analyze your problem, but also install the solution that you need. Contact us today to learn more and schedule your free estimate!
We serve the Minnesota area, including surrounding areas such as Bemidji, Fergus Falls, Detroit Lakes, Moorhead, Sartell, Bemidji, Sauk Rapids and nearby.
Why choose shorewalls to stop shoreline erosion?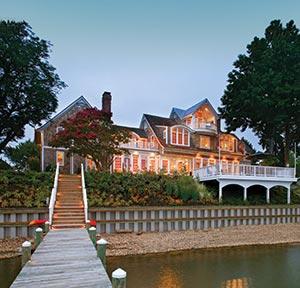 Residential Shorewalls, © CMI: Even small bodies of water like ponds will cause shoreline erosion if there is no kind of shorewall in place.
One of the most common defenses against shoreline erosion, and our method of choice, is a shorewall. Shorewalls serve to prevent the waves from touching the vulnerable soil near the shore, thus keeping it from eroding.
The shorewalls we install have an innovative sheet piling system that makes them not just unique, but also stronger and more rigid than older techniques and styles. Our shorewalls are also:
Customizable: A shoreawall can be an attractive part of your property, not just a necessity. We offer a variety of profiles, colors, textures, and other design options so you can make it your very own.
Sustainable: The shorewalls we work with are made from almost 90% recycled materials and the whole wall is recyclable.
Hassle-Free: Marine borers, weather deterioration, and corrosion have little effect on our walls. You won't have to worry about regularly maintaining our walls.
Warrantied: The shorewalls we install have a 50-year warranty.
Why choose Innovative Basement Systems for your shoreline restoration needs?
Since 2005 Innovative Basement Systems has been devoted to providing quality solutions for all of our customer's problems. When you work with Innovative Basement Systems you do not just receive an affordable price point, but also the help of an expert team.
If you are concerned about shoreline erosion on your property then don't hesitate. Contact us today to schedule your free estimate!
Looking for a price? Get a no cost, no obligation free estimate.